Ready for Some Fall Fun? Let's Meet at Happy Valley Park!
Are you searching for a great way to kick off the fall season? If so, look no further! Come on down to Happy Valley Oktoberfest. It's happening on Saturday, Oct. 7th, from 11am to 8pm. The place to be is Happy Valley Park.
 First Up: Food, Music, and Dance!
October is here and the leaves are starting to change. What better time for Oktoberfest? So, grab your cozy flannel shirts and comfy boots. Get ready to enjoy a day that's all about fall!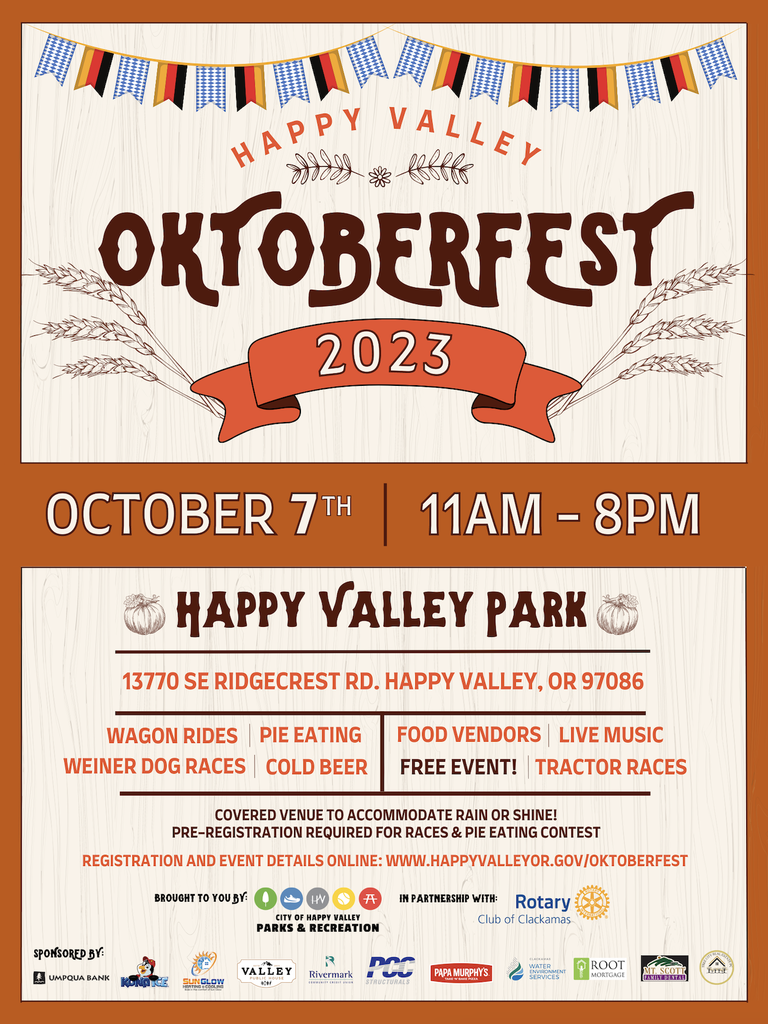 Next: More than Just Food
The City of Happy Valley has invited Valley Public House to be one of the primary food and beverage vendors for Happy Valley Oktoberfest. What's on the menu? Think delicious German food, lively music, and, yes, awesome beer!
But Wait, There's More: Family Fun!
Happy Valley Oktoberfest isn't just for grown-ups. We have lots of fun planned for kids too! Expect pumpkins, wagon rides, and even more fun games. Plus, local vendors and community booths will be there. So, there's something for everyone to explore.
PS: Wouldn't it be awesome to live close to the park so you can enjoy all of the events that happen year round? Check out these properties:
Also: Get Ready for Contests!
Still want more? You got it! Join in on the fun contests. Show off your moves in the chicken dance or cheer on the Weiner Dog races. And if you're 21 or older, test your strength in our beer stein lifting contest, always a hit at Happy Valley Oktoberfest!
Lastly: Let's Make It a Date!
So, why wait? Make plans now to come to Happy Valley Park on October 7th. All of us at Favor Realty Group are eager to celebrate the best of fall with you!
Can't wait to see you there!
About Favor Realty Group:
At Favor Realty Group, we are committed to being your steadfast partners throughout your real estate endeavors in Happy Valley. As your trusted allies, we offer a wealth of resources to aid your journey, including complimentary buyer guide and seller guide, ensuring you have a comprehensive understanding of the process. For those contemplating a move, our "What's My Home Worth" tool stands ready to provide insights into your property's potential value. Our mission at Favor Realty Group is help you find home!